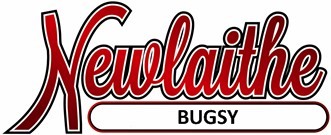 CHAMPION NEWLAITHE DOOGLEBUG JW
8 CCs, 5 BOBs & 3 RCCs
Magical Trick from Newlaithe (1CC 3RCCs) x Newlaithe Redesigned
Crufts Qualified for life
Producer of 3 UK Champions, 1 Philipinne Champion & 1 Maltese Champion
Retired from the show ring

HT 0/1
USG Tested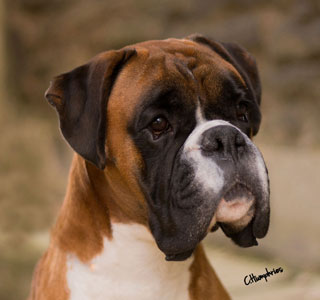 Sire of:
CHAMPION Vandenrob Tisoni at Glenauld CRUFTS Reserve Best of Breed 2019, Dog of the Year Winner 2019
Philippine Champion Newlaithe Dooglebox (litter bother to Newlaithe Bug On JW)
Newlaithe Bug On JW (Eukanuba Puppy Stakes Heat Winner Blackpool 2015) 1 CC & 2 RCCs
Newlaithe Gingernut JW Crufts Qualified for Life
CHAMPION Vandenrob Nina Roche at Glenauld Crufts Qualified for Life (Champions title at 17 months)
Glenauld Trudy Multiple Crufts Qualified
CHAMPION Glenauld Tasmin 3 CCs & 7 RCCs, CH Show Working Puppy Group Winner - Boxer Quarterly's Top Puppy 2015
Maltese CHAMPION Jun BIS Vandenrob Trail Blazer (litter brother to Nina Roche)
Many of Dooglebug's progeny are multiple Crufts qualified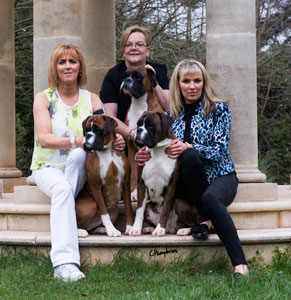 CH Newlaithe Dooglebug JW and his girls!!
CH Vandenrob Nina Roche at Glenauld and CH Glenauld Tasmin JW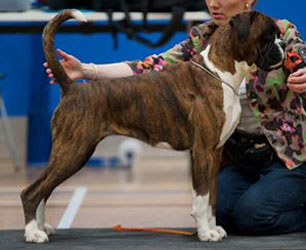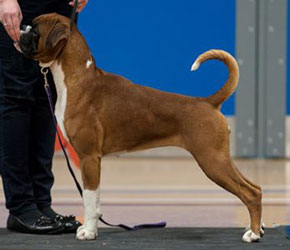 CH Glenauld Tasmin 3 CCs & 7 RCCs and Glenauld Trudy (litter sister)

Challenge Certificate - The Scottish Boxer Club 2017 - Tommy Dahlstrom
Reserve Challenge Certificate - Blackpool CH Show 2016 - Ronnie Irving
Challenge Certificate - Working & Pastoral Wales 2016 - John Ritchie
Challenge Certificate - Essex & Eastern Counties Boxer Club 2016 - Frank Kane
Challenge Certificate - Manchester CH Show 2016 - Frank Wildman
Reserve Challenge Certificate - London & Home Counties Boxer Club 2015 - Denise Mastaglio
Reserve Challenge Certificate - Welsh 2015 - Stuart Mallard
Challenge Certificate - Border Union 2015 - Philip Greenway
Challenge Certificate - SKC 2015 - Peter Jolley - Champion Title
Challenge Certificate - Paignton 2014 - Janice Mair
Challenge Certificate - Border Union 2014 - Vicky Bell

Critique from John Ritchie (Working & Pastoral Wales)
OD (9, 2) 1 Beardsell & Van-Beck's Ch Newlaithe Dooglebug JW. Lovely deer red boy who is an absolute stallion of a Boxer, exactly what I look for in a boxer male- he was presented in such fantastic hard muscular condition , his head is to die for, dark pigmented mask, perfect balanced proportions, broad square muzzle, good mouth, correct lip placement, large nose correctly placed, loveliest of dark expressive eyes, scores in correct rise of skull, neatest of well set ears, strong moderate crested neck, superb front angles and shoulder lay, excellent prosternum, straight legs and tight feet, strong short square body with correct underline and tuck, short strong loin, correctly angulated hindquarters and neat short hocks, moved soundly and steadily out and back and showed great drive and correctness of foot fall on the side gait, he optimises all I look for in a boxer male who was shown, conditioned and handled to perfection, he stood way out for me in the lovely entry, am sure he will go onto pick up quite a few more CC's.
Critique from Frank Kane (Essex & Eastern)
O Excellent class with 13 Champions, a privilege for me. 1 Ch Newlaithe Dooglebug. 3 year old red, lovely balance and powered around the ring. Excellent head and eye, squarely built and with excellent stride and topline. All Boxer and combines substance with a degree of elegance. CC & RBIS
Critique from Denise Mastaglio (London & Home Counties)
OD (10-1) Excellent class of outstanding males. 1 Beardsell & Van-Beck's Ch Newlaithe Doodlebug J W. Beautiful r/w of substance who oozes quality. Exceptional head with correct ration of skull to muzzle. Wide jaw and evident chin. Strong neck and forehand assembly with good depth of brisket. Good width of quarters and moved with purpose. Expertly handled. RCC & RBIS
Critique from Stuart Mallard (Welsh)
2 Beardsell & Van-Beck's Ch Newlaithe Dooglebug JW, upstanding quality red, I liked his head and finish to muzzle, length to arched neck with well placed shoulders, developed chest, ribcage with shape and underline drawn up, shape to muscular hindquarters.
Critique from Philip Greenway (Border Union)
LD (5, 1) 1 Beardsell & Van-Beck's Newlaithe Dooglebug JW. R/w, whose balanced shapely profile takes the eye, excellent head, powerful muzzle, wide under jaw with correct chin, refined clean skull, dark eyes, expression full of Boxer character, arched neck, good topline and angulation, correct depth of brisket, movement true with scope in profile.
Critique from Janice Mair (Paignton)
PGD (16, 1) 1 Beardsell & Van Beck's Newlaithe Dooglebug. Tall masculine red/white with excellent bone and substance, good forechest, well sprung ribs, correct topline, strong loin good tailset. Well angulated quarters with excellent muscle on his thighs, he powered round the ring. Beautiful head type with correct ration of padded muzzle to skull. Lovely dark pigment and dark eyes, good chin, excellent wide mouth with good dentition. Pleased to award him CC.
Critique from Vicky Bell (Border Union)
YD 1 Beardsell & Van-Beck's Newlaithe Dooglebug JW. 21 months old, top size, upstanding red dog, this dog has perfect balance of elegance to substance one of the key things I was looking for, so correctly put together presenting a striking outline with solid bone and feet but without coarseness, superb head with a blocky muzzle of correct width and depth, evident chin with super lip placement and the best of mouths, wide, straight and tight, correct stop and rise of skull, kind expressive eyes, gorgeous expression that looks at you just right, elegant arched neck into evident withers flowing into a broad firm topline and bang on tailset, well ribbed with a short strong loin and correct underline, fantastic forechest with correct layback of shoulder and length of upper arm, allowing him excellent forward reach, hammy quarters and good turn of stifle with clean hocks, he is straight coming and going and has a beautiful free flowing side action covering the ground effortlessly, keeping his super shape at all times, turned out in excellent condition and very well muscled throughout, I was very proud to be able to award him his first CC and was thrilled to see he gained his second shortly after, I am sure his 3rd will not be far away, still a young dog he still needs time to finish and mature.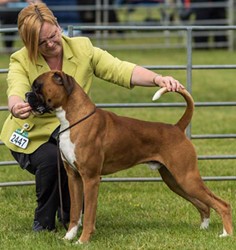 Photo at 10 months old at Border Union 2013
12 Months later he takes his first CC at the same Show
AND 12 Months later takes his fourth CC at the same Show!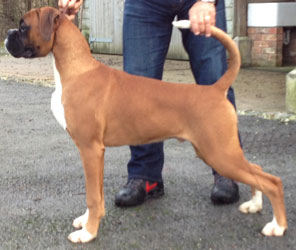 Photo at 5 months old
Expertly presented by Diego Garcia (USA)