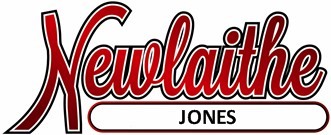 NEWLAITHE BUG ON JW ShCM
1 CC & 2 RCCs
CH Newlaithe Dooglebug JW (8 CCs 3 RCCs) x Newlaithe On Design JW
Crufts Qualified for Life
National Eukanuba / Dog World Puppy Competition Qualifier 2015
(Only 23 puppies from ALL Breeds qualify for this event each year - some achievement!)
Over the years many of Britain's most promising puppies have been entered in heats and the finalists have included some of the greatest show dogs of their time, including CRUFTS Best In Show winners and Top Dogs of the Year. All of them are a tribute to the skill and dedication of Britain's responsible Breeders who care about health, welfare and character of the breeds to which they have devoted so many years.
Twenty three Pup of the Year qualifying heats are held during the year. From each a leading judge sends forward one puppy to compete in the final. Invariable the competition is of the strongest, both numerically and in terms of quality, and some finalists already have CCs or are Champions
HT 0/1
USG Tested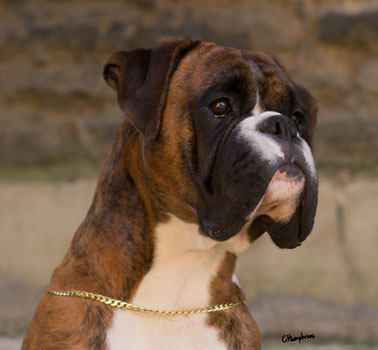 Photos courtesy of Chris Humphries


Chlallenge Certificate - Midland Counties 2016 - Yolanda Tonkin
Reserve Challenge Certificate - The Merseyside Boxer Club 2016 - Lynn Mair
Reserve Challenge Certificate - Essex & Eastern Counties Boxer Club 2016 - Frank Kane

Critique from Lynn Mair (Merseyside)
 YD (8,1) 1 Beardsell & Van Beck's Newlaithe Bug On JW smart medium sized boxer, square in profile, nicely angulated front and back, ribs well arched, tail set on high, ground covering action. Clean skull, dark eyes showing intelligent expression, sound straight mouth. Res CC and on Referees decision who was Mr Peter Bailey RBIS
Critique from Frank Kane (Essex & Eastern)
  Y Excellent class. 1 Newlaithe Bug On. 20 months, lovely young dog, short backed with good balance and excellent topline. Very good head and eye, carried himself well. Has an excellent rear without the over angulation of some. I liked him a lot - Res CC to his sire.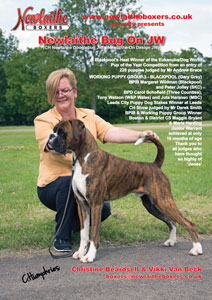 Our latest BQ advert October 2015
(Click on the image for a larger view)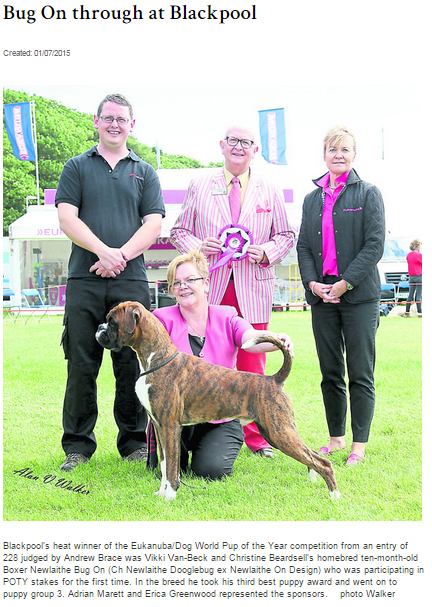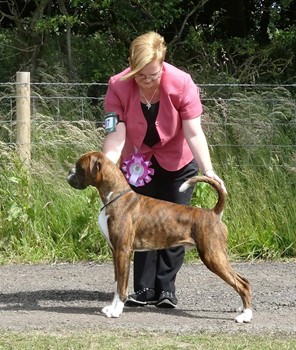 Photo at 9 months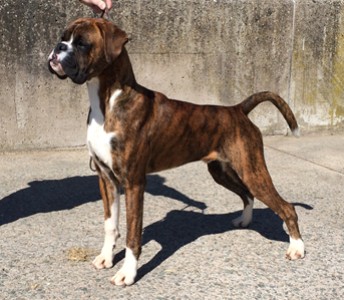 Photo at just 8 months
© 2015 All Rights Reserved Newlaithe Boxers
No images may be taken/used from this web-site without written confirmation from Newlaithe Boxers